FullStac donates services to help the Philadelphia community during COVID-19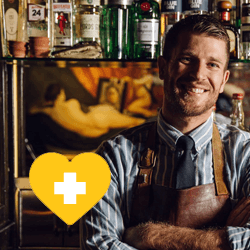 FullStac LLC – April 2, 2020 - HARRISBURG, PA – Updated: 4/3/2020, 10:35a EST - A month that will live in infamy, March 2020. A virus that has never been seen before in the United States. Almost surreal, it feels like a movie. COVID-19, a coronavirus, shutting down the economy, forcing businesses to close and displacing millions out of work. Small businesses shutter with disbelief while workers are laid off by the millions.
FullStac as company saw a sharp decline in revenue. Our main source of business is providing cloud-based software & services to other small businesses who operate as eCommerce resellers. The eCommerce industry took a significant hit and clients across our platform saw, on average, a 75%-90% drop in business. The trickle-down effect was devastating as businesses were incapacitated by mandatory local stay-at-home orders. The company was forced to lay-off non-essential employees with the hope of eliminating debt in order to recover quickly. Not only was the eCommerce industry hit hard but every other small business industry as well.
"It was the Monday after our massive layoff...I was distraught and stressed. I turned to Facebook for a quick scroll through my feed to get my mind off work. That is when I came across a post that stood out to me. A post asking for help with a database, for a website. What intrigued me the most was the website's mission. It was a glimmer of hope...an inspiration. I had to help..." says Michael Kulczyckyj, CEO of FullStac LLC. That post was started by none other than Michael Rios, a web/graphic designer from Philadelphia PA. Rios saw a need in his community that was going unnoticed and, like Kulczyckyj, decided to help. Rios created a website called Queerantine.me.
"The idea for Queerantine.me came to me as I was sitting at home having a drink on a Saturday night. It occurred to me that if not for being quarantined I'd be out with all my friends having a drink at our favorite bar and tipping our regular bartender, and I wished there was a way we could still send tips to all the people we'd normally be tipping. I had seen some bartenders share their Venmo accounts on social media, but there wasn't a single list where anyone could find this information more easily. The next day I registered the domain and began working on a website!" says Michael Rios [sic]
The website is designed to help local LGBTQ bar and restaurant staff during the COVID-19 crisis, by sending virtual tips. Since everyone has to obey social distancing, venturing out for a drink is impossible. So while you self-quarantine and relaxing with your favorite drink, you can look up your favorite local bartender and say thanks for all those good ole' Friday nights at the bar by sending a virtual tip. FullStac stepped in to help Rios by donating developer resources, programming, website hosting, and SSL certificates. Our developers utilized some of the back-end
Dashboard OSM features
to convert the current static hard-coded website created by Rios, into a full dynamic SQL Database driven website. We also added a fully managed back-end to handle site data, along with front-end search features and request forms. Finally, FullStac also donated dedicated secure web hosting for
Queerantine.me
to handle high traffic demand and ensure 99.9% uptime.
"At first it seemed that he [Rios] only needed a simple database designed. After looking over the site and hearing Mike's [Rios] needs, I felt compelled to offer more." says Michael Kulczyckyj, CEO of FullStac LLC
Queerantine.me grew quickly and now has listings for Philadelphia PA, Austin TX, Dallas TX, Washington DC and more being added daily. Responsive CSS5/html design offers easy viewing on all mobile devices. The easy to fill out secure form offers a place for bar staff and performers to submit their information to be added to the site. Although quickly developed, the site uses PHP v7.0, connects directly to Dashboard OSM's API engine, Dashboard OSM's dedicated SQL server and Dashboard OSM's dynamic library of scripts to handle GDPR Compliance. "It was small at first but quickly grew to hundreds of names across multiple cities. Things were getting too much for me to handle, but thanks to the help of FullStac who volunteered to help out during these rough times they updated my website so that it's not only easier to maintain, but also easier to expand into more cities across the country so that more people can be helped!", says Michael Rios
On the site, you can find ongoing lists of Venmo, CashApp and PayPal accounts for your local LGBTQ bartenders, bar staff, restaurant staff as well as DJ's and drag/burlesque/cabaret performers. It also offers resources and grants for bartenders and restaurant staff in need of emergency assistance. The COVID-19 crisis impacted millions of people financially and the only way to rebuild is to pull together as a community and offer help and support for others in our community.
Checkout the podcast where Johnnie Ray Kornegay III inverviews the creator of Queerantine.me, Michael Rios. It can be seen and read on Staticc.com
If you or a loved one in the restaurant/bar/performance industry was financially impacted by COVID-19, visit Queerantine.me to submit your information.
For more information about FullStac LLC and Dashboard OSM, visit their website at https://dashboardosm.com/